Non Clinical Career Ideas for Pediatric PT/PTA/OT/COTA/SLPs
Apr 05, 2023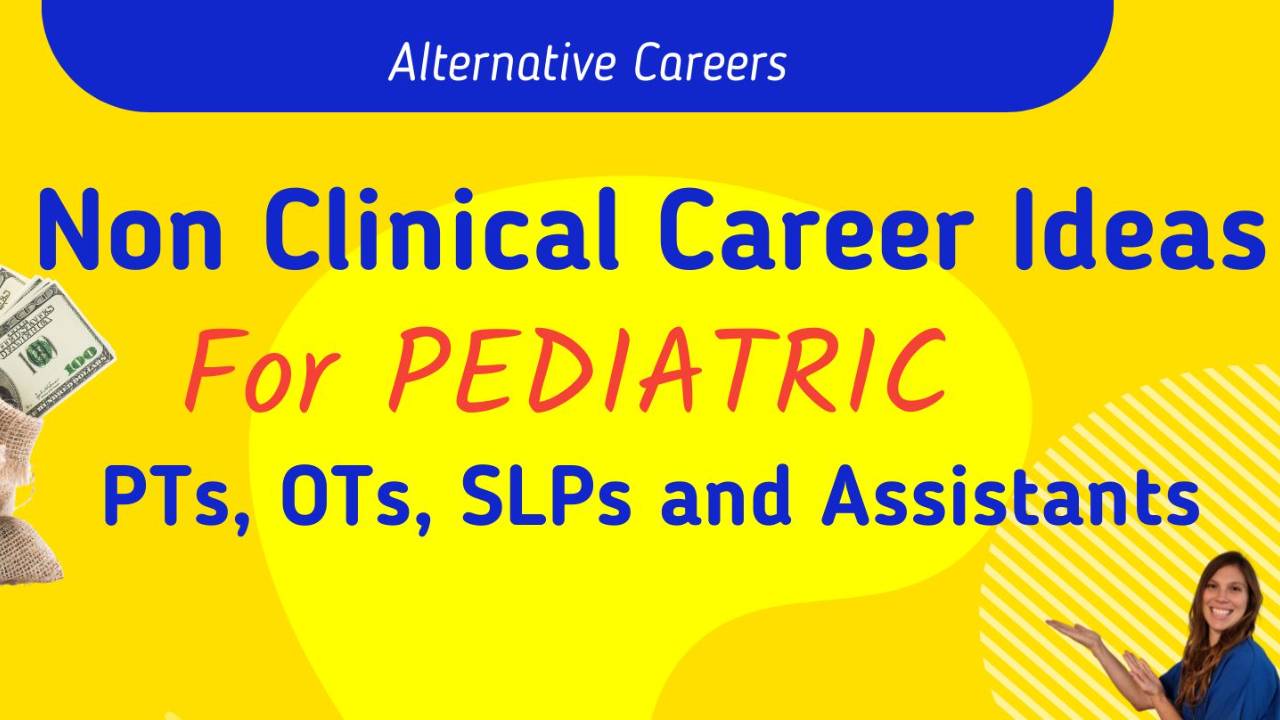 Non Clinical Career Ideas for Pediatric PT/PTA/OT/COTA/SLPs
In our Facebook group, Alternative Careers For Rehab Professionals, we often have a lot of pediatric therapists and assistants wondering what careers they could transition to with their skills? In this article, we'll give you some ideas that require little to no extra education and some that are remote too!
Working with Assistive Technology companies:
I think one of the best ideas to start your career search is with companies that you have already used in the past and loved. Often times that's assistive device companies, and then from here going to their careers page and looking for roles that may interest you and align with your skills. Some companies include Cranial Technologies, Obi Feeder, Permobile, Ki Mobility, NuGait, NewGait, Bioness and Nustep.
Some non clinical titles could include:
Talent acquisition (aka recruiting)
Clinical trainer or customer success (teaching patients or therapists how to use the device)
Sales
Marketing
Working with EMR Companies
I'm not sure if there is a pediatric only EMR company, but I think you could apply for a variety of the above roles within any EMR company. Some include HelloNote, Simple Practice, Prompt EMR.
Talent acquisition (aka recruiting)
Clinical trainer or customer success (teaching patients or therapists how to use the device)
Sales
Marketing
Working with Telehealth Companies
There are actually a lot of pediatric tele health companies. A short list include Eluma, Prescense Learning, DotCom, Global Teletherapy and EBS healthcare.
Within these companies you could apply for:
Tele therapist or assistant roles
Marketing
Sales
Clinical trainer/customer success
Recruiting
Elevance is a utilization management company that yes, does hire for pediatric positions! They prefer a pediatric position that does have some other setting exposure, but if you read their job posts they specifically ask for pediatric experience! If you want more help finding this position, we have a certificate that will help you stand out on your resume, includes 7 hours of CEUs, free resume editing, and much more here: https://www.alternativehealthcarecareers.com/courses/becomeautilizationreviewer.
"Preferred Qualifications:
Pediatric Developmental Delay and/or Outpatient Orthopedic experience
If you would like more information on Utilization Management and Review and what this entails, here is our Utilization Career Guide and here is our Utilization Management Certificate that includes 7 CEU hours and free resume edits!
Prefer Physical Therapists, Occupational Therapists, and Speech Language Pathologists".
While this isn't exactly non clinical, performing therapy with horses, is a rewarding alternative to leaving healthcare. You can see if there are any private practices you could work with or even start your own Hippotherapy clinic!
Working for a kids gym, or even starting a kids gym like Guiselle here ( https://youtu.be/-9Serp-Ow10 and https://www.alternativehealthcarecareers.com/kids-gym) can be another rewarding alternative method to continue to help people with their physical functioning.
Perhaps there are schools looking for a pediatric therapist or assistant to help with instruction? You can also look into research positions, as there are often many grants for pediatric conditions. I would reach out to your alma matter first to see if they have any openings or connections.
How to Stand Out In These Non Clinical Roles:
You're probably wondering – okay, I've found a role but am I really right for it? How do I stand out?
First, the reason why I encouraged you to look into companies you have used is 1) it gives you a place to start in the endless sea of potential companies to work for but 2) you can talk about your amazing patient experiences. Rave about their product, talk about how you've actually successfully used the product – having someone who knows and loves the product is a huge plus and way for you to stand out.
Second, remember that in therapy you have to do a lot of conflict resolution, scheduling, organization, documentation, communication to patients/caregivers/medical professionals, and sales – you convince people to do their HEP! You just have to spin this, so use the language on the job post to help you come up with the right words to help you tie in the job requirements with the above skills
Third, be open to taking on new tasks at work – like helping with marketing, working with vendors, or billing. Any new tasks you do at work, means a new bullet you can put under your work experience.
Fourth, be open to more education. Not a whole new degree, no way! But some simple courses like –
Our Remote Careers Course or our Utilization Management Course – both of which provides resume editing, resume templates, interview answers, and step by step videos on how to find these roles and ace the application and interview process!
Google or LinkedIn Courses – these 2 companies often have courses that are reasonably priced on things like Excel, Salesforce, Marketing, Project Management. A little time and effort with these can really help you stand out.
Need help with your resume and cover letter?
If you need extra help searching for these roles, finding companies, finding role titles, writing your resume and cover letter then we have 2 courses that may be very helpful and include resume editing and CEUs:
Want to get hired as Utilization Reviewer?
Check out our amazing program that has helped over 400 students! We teach you how to finally get a position within Utilization Management (including appeals & denials, pre service care coordinator, skilled inpatient care coordinator and more)
Check Out Our Utilization Review Course Here
Want to become an entrepreneur?
Join our trainings each month and get our free business course!
We hate SPAM. We will never sell your information, for any reason.